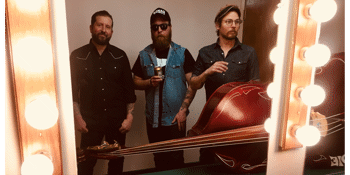 The Fyrefly
The Number 9 Blacktops
The Fyrefly (St Kilda, VIC)
Saturday, 12 October 2019 8:00 pm
The Number 9 Blacktops with special guests Buncha Counts
The Number 9 Blacktops are a 3-piece rockabilly band from Carbondale, Illinois. This is where you're supposed to write a bunch of stuff that no one really reads. I'll keep it brief. Jim started the band, Cody joined the band, then Kasey joined the band. We have a pretty fun time playing music together. We've played in ten different countries and put a lot of miles on a Ford van. We write songs about cars, motorcycles, and pretty girls. We then drive great distances in that van to sing you these songs IN PERSON in your local bar...


- The Number 9 Blacktops have toured 11 countries now, 15 trips to Europe in the past few years.
- We are 100% professionally endorsed by Gretsch Guitars, Fender Amplifiers, Bigsby Vibratos, and Buffalo Trace Bourbon.
- Harley-Davidson stuntman Bubba Blackwell uses our songs during his events
- We played a private birthday shows for the Johnny Knoxville-produced outlaw dancer Jesco White
- We have CDs produced by Eddie Spaghetti from the Supersuckers, and Rick Miller from Southern Culture on the Skids
- Jim has a side-band with Eddie Spaghetti, and JD Wilkes (Legendary Shack Shakers), called The Franklin County Trucking Company
- We were the support band for Chuck Berry 4 times in St. Louis.

https://www.youtube.com/watch?v=b6ZfZDPJt0g
www.facebook.com/9blacktops
General Admission $40 inc bf
Any unsold tickets will be available at the door on the night for an extra $5
Doors open/ Dinner: 7:00 PM
The show starts: 8:30 PM

THE FYREFLY
The Fyrefly is St Kilda's superb new dining, music and entertainment room located just down the stairs at Newmarket Hotel. Creature comforts meet sophisticated glamour, with outstanding facilities for the artists to play a huge variety of music styles including jazz, soul, funk, RnB, and even comedy.
OUR DINING EXPERIENCE
Aside from entertainment, an evening at The Fyrefly entails fine dining, top-shelf hooch and classy cocktails. We offer two or three-course dinner & show packages, or you can take your pick from our A La Carte Menu. Our menu showcases only the best locally sourced ingredients guaranteed to delight your taste buds.
CONNECT WITH US
Follow us on Facebook.
Learn more about The Fyrefly on our website.