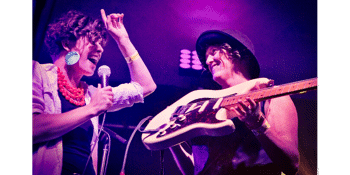 The Fyrefly (St Kilda, VIC)
Thursday, 10 October 2019 7:00 pm
Hussy Hicks have made a name for themselves as accomplished and powerful women both locally and on the international stage, the old fashioned way – by playing their music and connecting with audiences one passionate performance at a time.
Julz Parker is widely recognised amongst her peers as one of Australia's finest guitar players, with a tone and approach that sits stylistically between Jimmy Page, Peter Green, Django Reinhardt and Tom Morello. Leesa Gentz's powerhouse stage presence, soaring vocals and massive smile will steal your heart, have you hanging on every note and leave a tingle dancing down your spine.

Almost 10 years after their debut album Life Plays Out - Hussy Hicks are currently on the road introducing fans old and new to their fifth full length offering, 'On the Boundaries'. This album experiments with their sound and production to create something familiar yet fresh and was awarded Album of the Year at the 2018 Gold Coast Music Awards.
The Hussies run the gamut of musical genres incorporating blues, folk and riffy rock with gypsy, surf, alt country and soul, all cheekily woven together with beautiful vocal harmonies.
https://www.facebook.com/hussyhicks/?tn-str=k*F
https://www.youtube.com/watch?v=W4-GaiYv2UY&list=RDEMnL7pF19BA5stBzpBfilJIg&start_radio=1
Tickets:
Reserved seating $25 + bf;
General Admission $ 20
Private Luxe Booth for six people $150.00
Any unsold tickets will be available at the door on the night for an extra $10
Doors open/ Dinner: 7:00 PM
The show starts: 8:30 PM

THE FYREFLY
The Fyrefly is St Kilda's superb new dining, music and entertainment room located just down the stairs at Newmarket Hotel. Creature comforts meet sophisticated glamour, with outstanding facilities for the artists to play a huge variety of music styles including jazz, soul, funk, RnB, and even comedy.
OUR DINING EXPERIENCE
Aside from entertainment, an evening at The Fyrefly entails fine dining, top-shelf hooch and classy cocktails. We offer two or three-course dinner & show packages, or you can take your pick from our A La Carte Menu. Our menu showcases only the best locally sourced ingredients guaranteed to delight your taste buds.
CONNECT WITH US
Follow us on Facebook.
Learn more about The Fyrefly on our website.