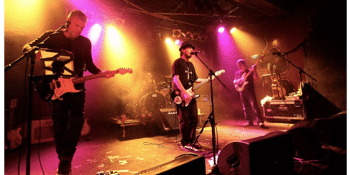 The Fyrefly (St Kilda, VIC)
Friday, 18 October 2019 7:00 pm
Dan Hall (Taxiride) and Chris Hawker (Bodymotors) started writing songs together in 2004 and by 2005 had formed 'Airway Lanes'.
Featuring Hall on guitar, vocals and keys, and Hawker on guitar and vocals, they were joined by Spyder Marrett on drums (Electric Mary, Dili Allstars) and Glen 'Scrubby' Evans on bass (Big Charlie).
Signing with Dust Devil Music, their first, self titled EP was released in 2006 to critical acclaim, and produced the radio singles 'Desire' and 'Ships Are Sinking'.
Their debut album 'In Vino Veritas' followed in 2008.
Hall and Hawker reconvened in 2015, and started writing songs for a second album.
In 2017/18 the new album 'Light Of Day' was recorded and released in 3 volumes across 2018 and 2019.
'Light Of Day' Vol. 1, 2 & 3 is a solid explorative addition to the Airway Lanes catalogue.
Airway Lanes play their only 2019 show at Fyrefly (Inkerman Street, St Kilda) on Friday, October 18.
Expect no support act. 'Airway Lanes' will play songs from their entire catalogue.
$20 + booking fee
Book a private booth for 6 people for $120 + bf
Plenty of seats available on a first in basis
A La Carte Dinner Available
Any unsold tickets will be available at the door on the night for an extra $5
Doors open/ Dinner: 7:00 PM
The show starts: 8:00 PM

THE FYREFLY
The Fyrefly is St Kilda's superb dining, music and entertainment room located just down the stairs at Newmarket Hotel. Creature comforts meet sophisticated glamour, with outstanding facilities for the artists to play a huge variety of music styles including jazz, soul, funk, RnB, and even comedy.
OUR DINING EXPERIENCE
Aside from entertainment, an evening at The Fyrefly entails fine dining, top-shelf hooch and classy cocktails. To complete the experience we offer two course dinner & show packages, or you can take your pick from our A La Carte Menu. Our menu showcases only the best locally sourced ingredients guaranteed to delight your taste buds.
CONNECT WITH US
Follow us on Facebook.
Learn more about The Fyrefly on our website.