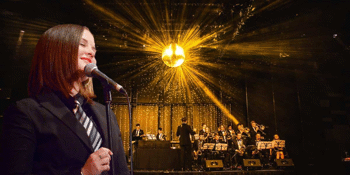 The Fyrefly
MONASH BIG BAND with special guest TASH WETHERILL TRIO
Tash Wetherill Trio
The Fyrefly (St Kilda, VIC)
Friday, 7 December 2018 6:30 pm

MONASH BIG BAND
with special guest
TASH WETHERILL
The Monash Big Band is a group of 20 undergraduate students from Monash University. Their areas of study range from arts to engineering, commerce to medicine, yet they are brought together by their enthusiasm for playing big band music. The band will bring 2018 to a close with a final performance at The Fyrefly. For several members of the Monash Big Band, this will be their final gig after many years of dedication and enjoyment with the band. Come along and join us for an evening of standards and surprises. You don't want to miss the undeniable delight that is a performance from the Monash Big Band!
Tash Weatherill is one of Melbourne's exciting up and coming Jazz Vocalists. Having just completed her studies in Jazz Performance at Monash University, Weatherill is already making regular appearances across popular Melbourne venues including Lido Jazz Room, The Lui Bar and The Mayfair. A 6-time vocal scholarship finalist at the Generations in Jazz Festival, Weatherill boasts performances with some of Australia's finest musicians including James Morrison, Tony Gould, and James Muller to name a few. After studying under her musical influences Gian Slater and Michelle Nicolle, Tash hopes to make her mark on Australia's jazz scene with original, story-telling repertoire and creative vocal and instrumental arrangements. Tash will sing in a trio format with guitarist Nick Kyritsis and double bassist Hiroki Hiroshino.
Doors open/ Dinner: 6:30 PM
The show starts: 8:30 PM

THE FYREFLY
The Fyrefly is St Kilda's superb new dining, music and entertainment room located just down the stairs at Newmarket Hotel. Creature comforts meet sophisticated glamour, with outstanding facilities for the artists to play a huge variety of music styles including jazz, soul, funk, RnB, and even comedy.
OUR DINING EXPERIENCE
Aside from entertainment, an evening at The Fyrefly entails fine dining, top-shelf hooch and classy cocktails. We offer two or three-course dinner & show packages, or you can take your pick from our A La Carte Menu. While our dishes are subject to change, our menu showcases only the best locally sourced ingredients guaranteed to delight your taste buds.
CONNECT WITH US
For the latest music news, events and more sign up for our newsletter.
Follow us on Facebook.
Learn more about The Fyrefly on our website.