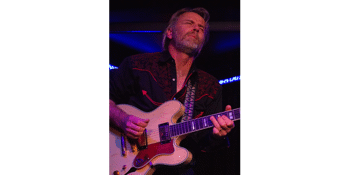 The Fyrefly
CANCELLED - Geoff Achison & The Souldiggers
Blues Arcadia
The Fyrefly (St Kilda, VIC)
Friday, 5 February 2021 8:00 pm
Geoff Achison & The Souldiggers
Eyes On The Prize (Digi-Single launch party)
Featuring: Roger McLachlan, Richard Tankard & Dean Matters
with special guests BLUES ARCADIA
Come join master musician at the top of his game Geoff Achison, as he leads The Souldiggers for the launch of their new single 'Eyes on The Prize'
"Achison channels the legendary soul & blues greats while crafting a sound that is uniquely his" Randy Patterson, Boomercity USA
"Part New Orleans funk, hard blues and soul – they are all done impeccably." Rob Dickens, Listening Through the Lens AU
"Achison has been hailed as one of the finest blues players in Australia." Encyclopedia of Australian Rock and Pop AU "Geoff is one of the best blues guitarists I know with a completely individual style." – Jorma Kaukonen (Jefferson Airplane/Hot Tuna) USA
"Never, ever miss an opportunity to see Geoff Achison perform live!" – Hittin' The Note, USA
A highly regarded guitarist, singer and songwriter, Geoff is equally adept at acoustic and electric styles. He can provide the full electrifying experience with his outstanding blues/rock combo The Souldiggers, or play a complete solo show with his superb command of the acoustic guitar. Whilst regarded as a Guitarists Guitarist, Geoff is also an all-round performer who delights in entertaining the audience with his wry sense of humor. His music is firmly steeped in the blues, but he injects funk, soul, jazz and even classical styles into the mix.
Since his arrival with Dutch Tilders, Geoff has been a driving force on the Aussie Blues/Roots scene, inspiring and influencing many of his younger compatriots. He enjoys the teaching aspect of his craft, presenting a number of workshops each year and appearing as a regular guest instructor at Jorma Kaukonen's famous Fur Peace Ranch guitar camp in Ohio. The Melbourne Blues Appreciation Society named Geoff Achison their official 'Patron' in 2011, and Geofff celebrated 25 years with The Souldiggers in 2019
Any unsold tickets will be available at the door on the night for an extra $5
Doors open/ Dinner: 7:00 PM
The show starts: 8:30 PM

THE FYREFLY
The Fyrefly is St Kilda's superb new dining, music and entertainment room located just down the stairs at Newmarket Hotel. Creature comforts meet sophisticated glamour, with outstanding facilities for the artists to play a huge variety of music styles including jazz, soul, funk, RnB, and even comedy.
OUR DINING EXPERIENCE
Aside from entertainment, an evening at The Fyrefly entails fine dining, top-shelf hooch and classy cocktails. We offer two or three-course dinner & show packages, or you can take your pick from our A La Carte Menu. Our menu showcases only the best locally sourced ingredients guaranteed to delight your taste buds.
CONNECT WITH US
Follow us on Facebook.
Learn more about The Fyrefly on our website.