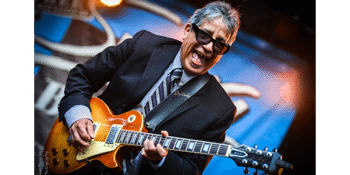 The Fyrefly presents
Chris Cain (USA)
with Phil Para (solo)
The Fyrefly (St Kilda, VIC)
Saturday, 11 May 2019 7:00 pm
CHRIS CAIN BAND (USA)
plus
PHIL PARA solo
CHRIS CAIN – TOURING AUSTRALIA MAY 2019
Blues aficionados - get ready for it! Bluesman Chris Cain is coming to Oz in May for a string of must-see shows!
Chris concocts a soulful stew of Memphis style electric blues accompanied by powerfully deep vocals and jazz inspired blues guitar riffs that are uniquely his own, a fine brew that pays homage to his heroes, sometimes reminiscent of the legendary BB King and Albert King, but always with his own inimitable seasoning.
A formidable talent and multi-instrumentalist, his expressive style is the result of a lifetime of study and the relentless pursuit of music mastery. His passion and intensity are a blend of his mother's Greek ancestry and his father's soulful black heritage.
Chris said, "I'm really looking forward to coming back to Australia. I've had some of my most wonderful times there and this tour is going to be a lot of fun."
As a child Chris attended concerts with his father and heard many of the great blues artists of the time. It must have sunk in, because when he burst onto the blues scene in 1987 with his award winning debut album, he soon found himself sharing the stage and trading licks with a few of those legends, including Albert King and Albert Collins.
Chris has released a dozen albums, each filled with soul-stirring songs pulled from his own blues drenched heart. His latest album, simply titled "Chris Cain" has been nominated for Contemporary Blues Album of 2018 and he's also nominated as Male Blues Artist of The Year at this year's Blues Music Awards in Memphis.
"One of my favorite, and criminally underrated blues players of all time. Chris has influenced me for as long as I owned a guitar. Tone, and magic phrasing. Killer voice and songs to boot." - JOE BONAMASSA
"When I interviewed B.B. King back in '05 I asked him if he had heard the album Cain does King and BB paused, got a huge ear-to-ear grin and said "Chris Cain? Now that boy can PLAY the guitar." He loved Chris!" - MARK FREDELL, The Big Blue Train Radio
Live from 2012 Legendary Rhythm & Blues Cruise https://www.youtube.com/watch?v=B253DRp_BA8
Drinking Straight Tequila Live 2016 https://www.youtube.com/watch?v=sZHFrgn9UIM
You're Gonna need Me Live 2016 https://www.youtube.com/watch?v=byyw3EftuPk
Doors open/ Dinner: 7:00 PM
The show starts: 8:30 PM

THE FYREFLY
The Fyrefly is St Kilda's superb new dining, music and entertainment room located just down the stairs at Newmarket Hotel. Creature comforts meet sophisticated glamour, with outstanding facilities for the artists to play a huge variety of music styles including jazz, soul, funk, RnB, and even comedy.
OUR DINING EXPERIENCE
Aside from entertainment, an evening at The Fyrefly entails fine dining, top-shelf hooch and classy cocktails. We offer two or three-course dinner & show packages, or you can take your pick from our A La Carte Menu. While our dishes are subject to change, our menu showcases only the best locally sourced ingredients guaranteed to delight your taste buds.
CONNECT WITH US
For the latest music news, events and more sign up for our newsletter.
Follow us on Facebook.
Learn more about The Fyrefly on our website.